Two decades after the first United Nations climate summit in Berlin, and more than a century after the first scientific study linking atmospheric levels of carbon dioxide to climate change, global leaders have gathered in Paris to negotiate their response to a changing world.
While the world's response to climate change has been dangerously slow – and while the largest polluters have already locked in significant global warming regardless of the outcomes of climate negotiations – many are optimistic that the Paris negotiations represent a major opportunity to initiate a global framework to substantively address climate change.
As Regional Plan Association develops recommendations for our Fourth Regional Plan, a long-term planning effort focused on the future of the New York-New Jersey-Connecticut metropolitan area, it is clear that the need to anticipate and adapt to climate change has become one of the region's highest priorities.
Concerted efforts are being made by the region's leadership – including Gov. Dannel Malloy of Connecticut, Gov. Andrew Cuomo of New York and Mayor Bill de Blasio of New York City – who have signed onto the 'Under 2 MOU' agreement, a commitment by subnational entities to significantly lower emissions as part of a goal to limit global warming to 2ºC or less.
Yet the same perennial conflicts that shape the tentative drafts of a Paris accord also affect the development of intergovernmental efforts to address climate change in our region. Governor Chris Christie of New Jersey pulled his state out of the Regional Greenhouse Gas Initiative, jeopardizing the effectiveness of a regional cap-and-trade system.
Though the commitments of the Paris accord and emissions reductions in the tri-state region are critically important, we will still have to grapple with the effects of climate change, which includes addressing infrastructure and communities at increased risk of flooding.
As a part of our initial work on the Fourth Regional Plan, we developed an interactive map to illustrate how much of our region's critical infrastructure is in low-lying areas. We found that more than half of our region's electrical generation and nearly a quarter of our public housing is in the future flood plain, as well as most of our airports and many of our subway stations.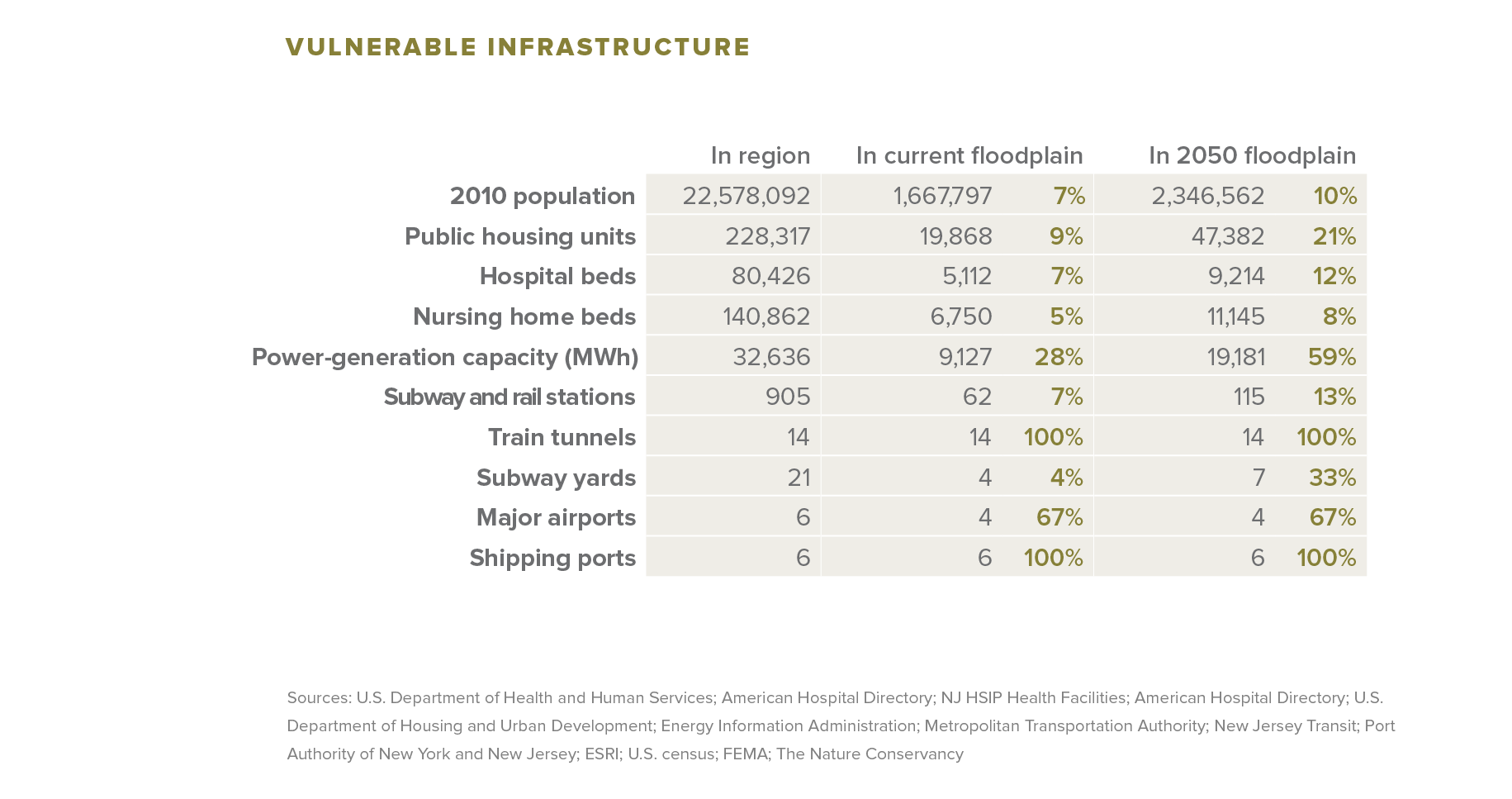 Moreover, we have found that, by 2050, more than 2.2 million of the region's residents could be at high risk of flooding. In a recent report, Where to Reinforce, Where to Retreat, RPA considered the need for a comprehensive adaptation approach that could reduce the region's overall climate risk.
Today, RPA is working on two projects that focus more deeply on these questions. The first focuses on the role that habitat restoration plays in coastal adaptation efforts, work funded by the Doris Duke Foundation, with additional support from the Leon Lowenstein Foundation. A second study, carried out in partnership with the Lincoln Institute of Land Policy, looks at the implementation of coastal adaptation practices – rebuilding, resisting, retaining, restoring, retreating – in several communities throughout the region.
These projects are shaping RPA's approach to climate adaptation within the Fourth Regional Plan. From building codes and municipal waste to electric infrastructure, housing, and transportation, our region's path after Paris takes us beyond reducing emissions alone, and will be defined by the willingness of city, state, and regional leaders to take bold steps to transform our infrastructure and communities to address the challenges of a quickly changing world.